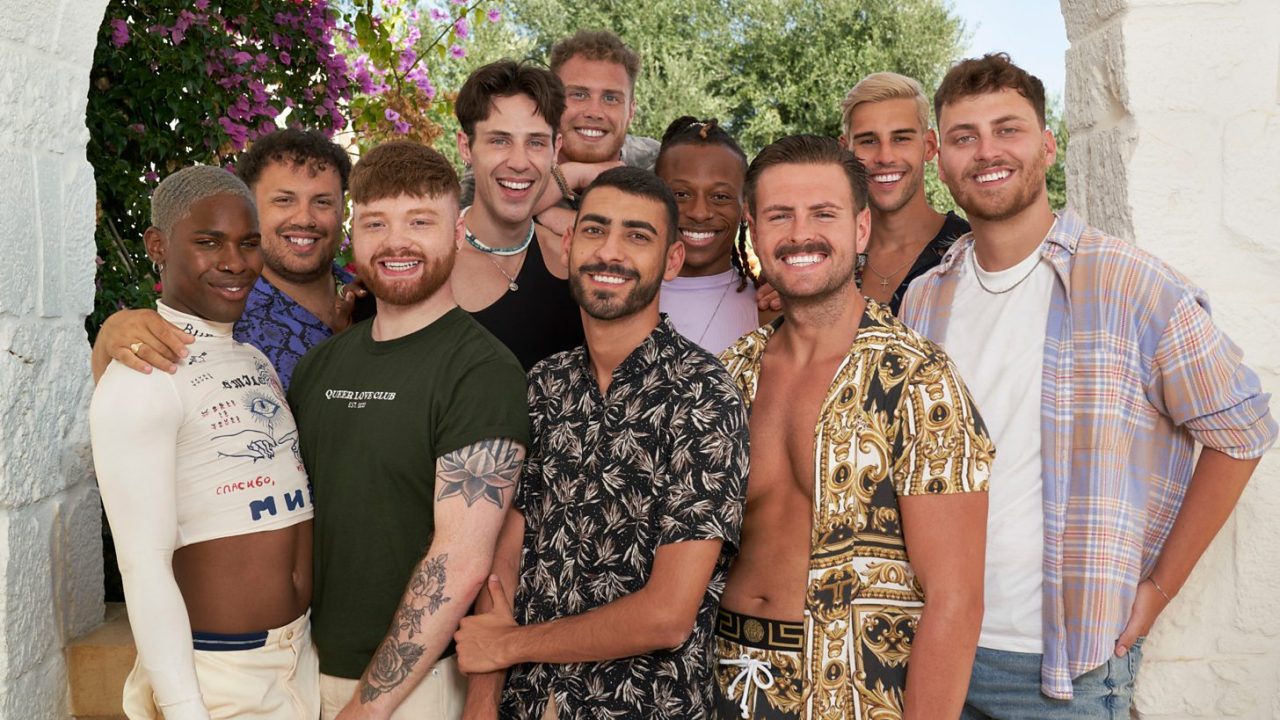 I Kissed A Boy launches on Sunday 14 May at 9pm on BBC Three – meet the boys!
Get ready for the UK's first ever gay dating show, where the path to love is never straight. It's loud, it's proud…and it all starts with a kiss.
Fly in pop icon Dannii Minogue to play Cupid, and it's the party you do not want to miss. 10 single guys are matched up, and meet for the first time… with a kiss. No small talk. No messages. Just one kiss to test out their chemistry straight away. Will it be a polite peck? Or a passionate snog? And ultimately, will that first kiss lead to love?
I Kissed a Boy is packed with explosive drama, gripping cliffhangers and powerful untold stories – from coming out in a strict religious family, to the pressures of body image in the gay dating scene, to navigating self-acceptance, sex and first same sex relationships.
Serving joy, entertainment and a sparkling soundtrack full of gay anthems, I Kissed a Boy is the ground-breaking show that will celebrate the queer community and invites all viewers to join the party.
Dannii Minogue says: "It is the first chance for gay dating to be seen on UK TV in the reality genre. It was far too long that calls for this type of show fell on deaf ears. I am so proud of Twofour and BBC Three for making this happen. The door is now wide open and the possibilities now there for inclusion.'
Meet the boys:
Ben, 28, Edinburgh: "Being surrounded by such different types of gay guys, all so confident, really highlighted to me that the only person stopping you from being who you want to be, is you!"
Bobski, 23, Essex: "I won't spoil the show for you but you can definitely expect lots of kissing, a cheeky twerk here and there and a little bit of Bobski magic."
Gareth, 28, Kilkeel, Northern Ireland: "I just hope that some queer kid, who's scared to be who they are, sees this and it makes them feel strong, glorious and powerful enough for them to accept and display their true authentic selves to the world. Something I wish I would have done a lot sooner in my life."
Jake, 27, Swansea: "I love the fact that every day was something different, with people from all different backgrounds. It's been life changing and I hope it helps other people to find love and kindness in the world."
Joseph: 23, London: "What an experience. I've learnt a lot about myself. I felt so safe in those walls. Everyone's amazing – we all had this amazing brotherhood."
Josh, 24, Rhyl, North Wales: "Many people have the misconception that 'gay' is a certain look or trait so having a show like this really helps to break down those stereotypes"
Kailum, 25, Brighton: "You can expect plenty of snogging, real connections, drama, sassiness but most importantly some real, hard hitting stories."
Ollie ,27, Brighton: "I'm very proud to be part of the show, being my honest self and showing the viewers that stereotypes are a thing of the past. You can definitely expect a fun cheeky chappy lad with a sensitive side."
Ross, 27, Manchester: "I am so proud to have been a part of I Kissed a Boy. Yes, I went into this to find my dream man but whilst doing this I didn't expect to leave with the friendships I've got."
Subomi, 29, London: "Dannii really gave Cupid a run for their money. She's such a beautiful soul and you could feel the love oozing off her which was so nice to be around."
I Kissed A Boy launches on Sunday 14 May at 9pm on BBC Three.
(photo L-R Joseph, Kailum, Ross, Gareth, Jake, Josh, Subomi, Ollie, Bobski, Ben)