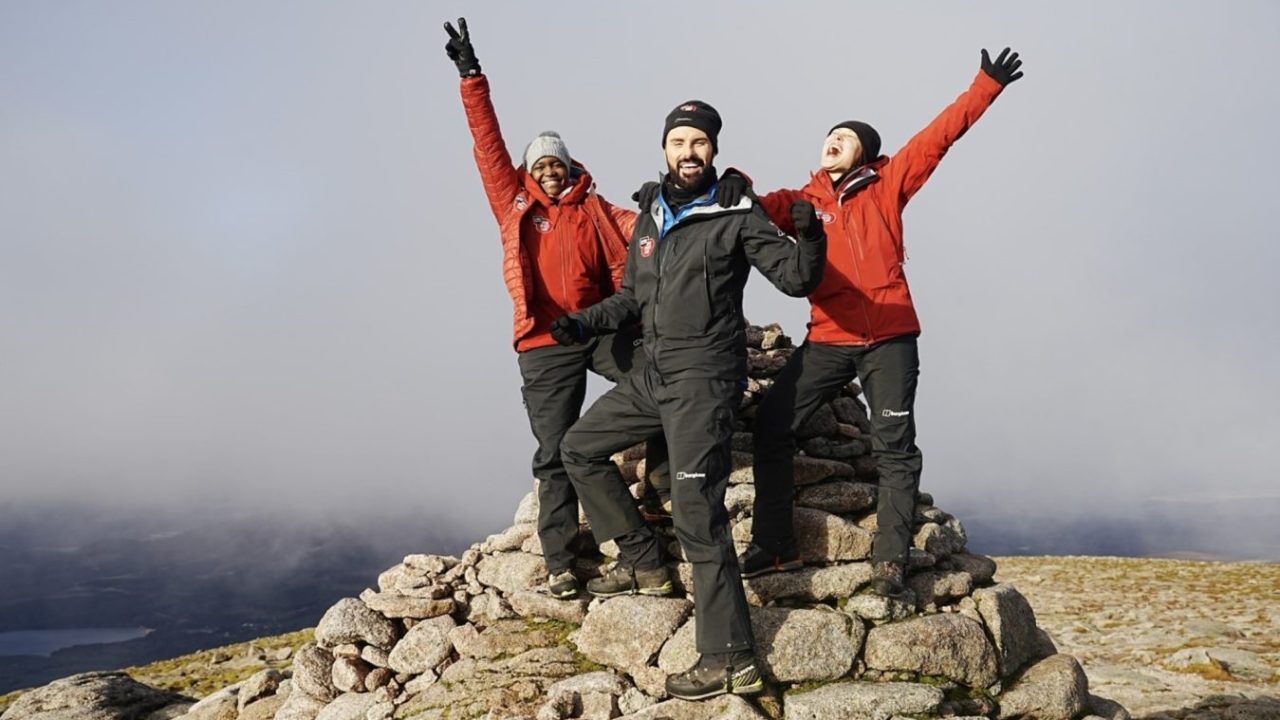 Comic Relief Red Nose Day Challenge
BBC One, 2023
A euphoric Emma Willis, Oti Mabuse and Rylan have reached the summit of Cairngorm Mountain, bringing an emotional end to their gruelling Red Nose Day challenge, and proving there ain't no mountain high enough for the drained but determined trio.
As weather conditions improved overnight, the expert guides deemed it safe to resume the challenge after their summit attempt was left hanging in the balance yesterday due to dangerous weather – bringing the final climb to an immediate halt.
Starting at 9am this morning, the team set off on their final 700m climb, feeling completely exhausted but equally determined to finish what they started. With the extra weight of their crampons to deal with, they relied on their ice axes to battle through the snow and reach the top of Cairn Gorm, one of the highest mountains in the UK, at 1,245m above sea level.
Despite the 70mph winds, freezing temperatures, aches, pains, and fatigue of the past three days, all three made it to the top, bringing an emotional close to their extraordinary journey to raise life changing money for Red Nose Day.
Today's final push brought a triumphant end to what has no doubt been a challenge of a lifetime that has seen Emma, Oti and Rylan encounter difficulties far beyond anything they could have ever expected. Since leaving Braemar on Wednesday they have trekked and wild camped in the Scottish Highlands and navigated some of the regions toughest wintry weather conditions.
But that's not the end of the story. All the highs and lows, twist and turns, and up-close drama of the turbulent trek have been captured for a special documentary, produced by Twofour, which will air on BBC One and iPlayer in the run up to Red Nose Day, which returns on Friday 17 March.
The money raised will help support people struggling with the cost-of-living crisis and tackle issues such as homelessness, mental health problems, and food poverty here in the UK and around the world. A portion of money raised throughout the Red Nose Day campaign will also go towards the emergency response to the devastating earthquake in Turkey and Syria. Donations will help to fund organisations providing essential support including blankets, food, water and medical supplies.
While Emma, Oti, and Rylan have reached the end of their journey there is still time to donate if you can. To support the team's heroic efforts, please visit comicrelief.com/frozen